Prepare for IELTS Academic / GT
Premium Lectures ( W / L / R )

One-to-One Speaking Interviews

Premium Lectures ( W / L / R )

One-to-One Speaking Interviews

Premium Lectures ( W / L / R )

One-to-One Speaking Interviews

Premium Lectures ( W / L / R )

One-to-One Speaking Interviews

CHOICE ROUTE
Fee structure for Indian Students
IELTS Academic / General
IELTS an International English Language Testing system is the best platform to test your language skills that are Listening, Speaking, Reading and Writing. IELTS is mainly managed by the University of Cambridge ESOL Examinations (Cambridge ESOL) and it conducted by IDP, Australia and British Council and it comes in two versions: IELTS General and IELTS Academic.
---
Beginners Level
If you are taking IELTS exam for the first time or you are, for some reason, stuck at 5.5 Bands. Then the our strategies of beginner level will work wonder for you. Along with familiarizing with the exam pattern, we give individual attention to every candidate and teach them to make their foundation strong. In IELTS writing module, at beginner level, Task 1 and Task 2 are discussed in detail on alternate days. Our 7+ band formulae will be discussed in the detail. Apart from this, students get to perform Reading module with the expert trainers where students are guided at every point in order to overcome major or minor mistakes. And our tried & tested tips and tricks make you capable of scoring 9 Bands. As far as speaking is concerned, we have student centric classes where students participation is motivated. A mentor is assigned to every student in a virtual classroom. Here you get the opportunity to speak in english with native speaker and improve your speaking skills. To improve your listening skills and score, our exclusive material will be available with you and micro listening practice will certainly add advantage. In addition to this vocabulary building and free grammar classes will help you in cracking exam with flying colors.
---
Intermediate Level
In Intermediate level, you get to learn about your weaknesses as well as strengths. You will get access of Choice route exclusive material for practicing all four modules. Also, special doubt clearing sessions will be provided where expert trainers will guide you to overcome minor mistakes that you usually tend to make and eventually fail to achieve desirable score. Weekly mock test and Reality test will give you experience of level of questions in final exam. So pick intermediate batch now get one step closer to crack your exam.
---
Advance Level
Give Final touch to your preparation with advance level batch. Here Practice, Practice and More Practice will be the success Formula. After discussing all the tips and trick, when you are planning to take your exam, in advance level, you will be assigned practice test everyday and remarks from our Ex- Examiner and Master trainers on your performance will help you to improve more each day. Special individual doubt clearing sessions will be provided where expert trainers will guide you to overcome minor mistakes that you usually tend to make and eventually you will be able to crack your exam in first attempt. Reality test will give you the opportunity to understand the real exam environment and difficulty level. So, if you planning to book your exam, get your level assessed with Choice Route Advance batch and overcome the gaps in the learning
---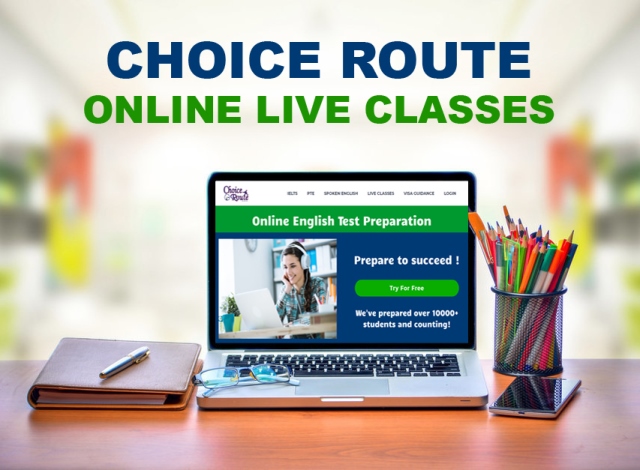 ---
Daily 4 Practice Tests & Reality Test
---
Topic Vocabulary  & Individual attention
---
Unlimited Live Classes
---
Face to Face Discussion Session
---
Mock Test with Writing & Speaking Feedback
---
Group Discussion & Master Tips of All Modules